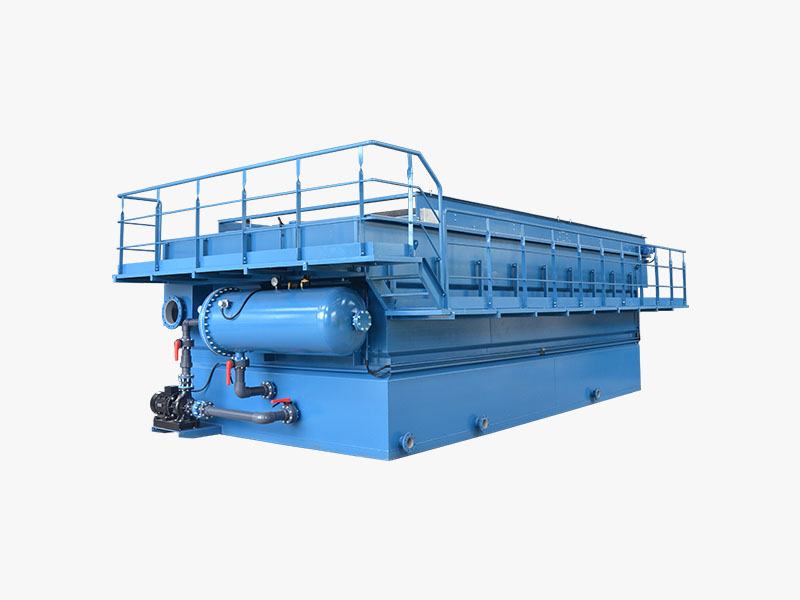 DAF-Roll Flow DAF
We have standarized DAF products ,have 5 types in total.The left picture is our RF-DAF series.It has thoese main features: 1.Perfect solution for large flowrate project 2.Design capacity from 200m3/h to 1200m3/h 3.Air dissolved water are distributed to the whole tank equally with patent design 4.Design hydraulic loading rate:15-25m3/m2/h
Introduction
Dissolved Air Flotation (DAF) has been known and applied widly as one of the most effective and economic ways to remove suspended solids (SS),fats, oils and grease (FOG), phosphorus (P) from industrial wastewaters by the generation of micro bubbles.
Jorsun DAF is an innovation combined with traditional dissolved air flotation design theory and modern technology after years of research and application.DAF is based on a physical / chemical process.Wastewater is dosed with treatment chemicals upstream of the DAF inlet to form flocs.
When those flocs enter to the DAF chamber,massive of microbubbles attach to the flocs, and bring them floating to the top.The floating solids are harvested by DAF's top skimmer. After the separation process, clean effluent will be collected and discharged.
The generation of micro bubbles is through the air saturation vessel and air diffuser plates.A portion of the DAF effluent is recycled to the air saturation vessel to mix with air by venturi jet under high pressure,and form air dissovled water(white water) .When the air dissoveld water flow to the air diffuser plates, the sharp reduction of pressure will make the microbubbles release from the air dissolved water,and form massive microbbubles.
High efficient roll flow DAF is a newly designed DAF equipment with high hydraulic load and large capacity.Our engineers carry out the comprehensive design based on flow state,flow speed, air dissolved water distribution density etc, and also utlize the FLUENT SYSTEM for calculation .Roll flow DAF subverts the traditional DAF design concept and is a revolutionary innovation for DAF technology .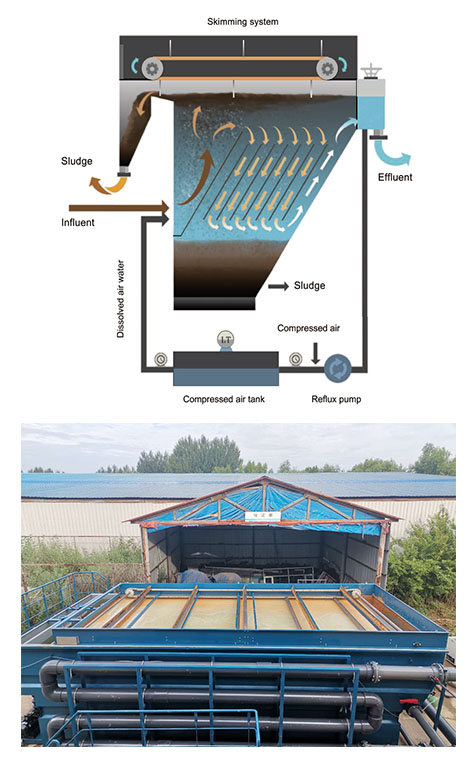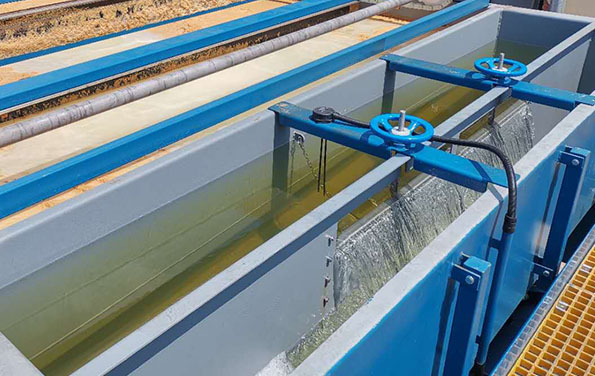 High Efficient Roll flow DAF is as a result of JORSUN team's over 10 years' cotinuous and study.
It's a perfect solution for large flowrate project with not high SS (200-1200m3/h).
It's officially launched in 2020 and then displayed in IE EXPO and AQUATECH CHINA in Shanghai in the same year.
Up to now,the high efficient roll flow DAF are successfully operated for WWTP upgrade, water purification of watertreatment plant,river ,and effluent after secondary clarifier etc.
Key features and benefits
● Maximum TSS,FOG removal efficiency with JORSUN high efficient air dissolved system (99.9% air releasing effiency).
● Experience from over 2,000 applications in a variety of fields.
● Minimize footprint with JORSUN compact design.
● Save installation time .JORSUN DAF units are deliveryed as prefabricated units . Very easy for installation.
● Quick in response to provide excellent international services.Served clients are over 50 countries aross the world.
● Various constructed material. Carbon steel epoxy coating or FRP lining, stainless steel SUS304 or SUS316L,duplex steel 2205 or 2507.
Remark: To make the most suitable proposal, we will need know flowrate, wastewater source,wastewater quality (SS,BOD,COD,FOG etc ).
Core technology
Material option
Voltage option
Flange option
FAQ
Core technology
●Micro bubble generation technology
●Solid-liquid separation technology in scum zone
●Box type skimming system with patent
●Linear equal water distribution and synchronous water collection technology
●Roll flow and steady flow technology for separating zone
●Parallel separating technology to achieve equal hydraulic loading rate
●Air dissolved water full tank distribution technology
Material option
Voltage option
Flange option
FAQ