Introduction
Jorsun multi-disk screw press solves the technical problems of previous generations of sludge dehydration equipment, such as easily blocked, unable to deal with low concentration sludge and oily sludge, high energy consumption, complex operation, etc., and achieves the dehydration goal of high efficiency and energy saving. Under the condition of fully automatic operation, the dehydrator can realize high-efficiency flocculation, continuously complete sludge thickening and pressing dehydration, and finally return or discharge the collected filtrate.
It is widely used in municipal sewage treatment engineering and water treatment system of food, starch, oil, pharmaceutical, chemical, paper, leather and other industries etc.
Dewatering Principle
The initial section of dewatering drum is the Thickening Zone, where the solid-liquid separating process takes place and where the filtrate will also be discharged. The pitch of the screw and the gaps between the rings decrease at the end of dewatering drum, hence increasing its internal pressure. At the end, the End Plate further increases the pressure, so as to discharge dry sludge cake.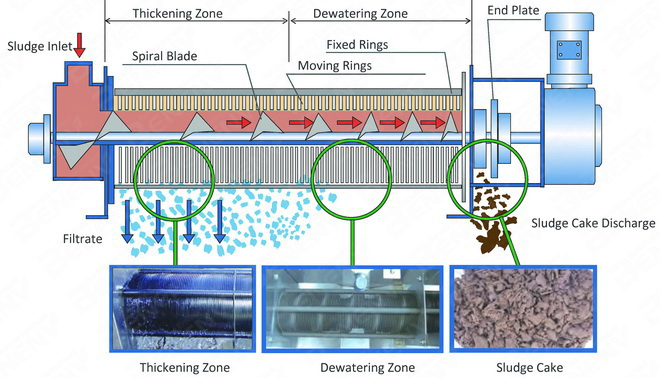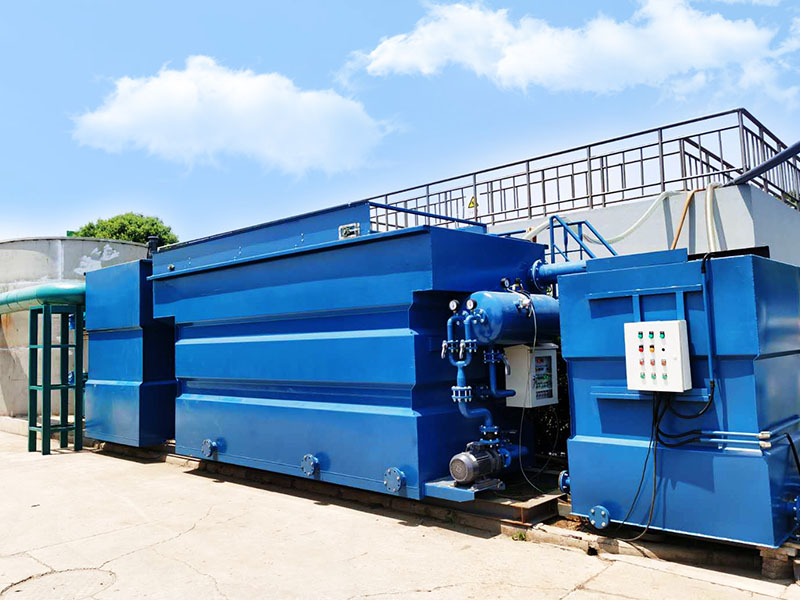 ● Enclosed to minimize odors and noise
● Very low wash water usage(1/8 compared with belt press)
● Very low power consumption(1/20 compared with centrifuge)
● High cake solids
● Minimal operator requirement
● Easy to operate and maintain
● Auto start-up, run and shutdown
● Touch screen operation optional
● Sludge Flow and Cake Monitoring System
● Available with many other options like Dairy, Palm Oil, etc.
Model

DS Standard
handling capacity
kg/hr

Sludge handling capacity(m3/h)

Low
concentration

High
concentration

2000mg/L
0.2%

10000mg/L
1%

20000mg/L
2%

30000mg/L
3%

40000mg/L
4%

50000mg/L
5%

JMDS-101

2

7

1

0.3

0.25

0.2

0.15

0.14

JMDS-131

4

14

2

0.6

0.5

0.4

0.3

0.28

JMDS-132

8

28

4

1.2

1

0.8

0.6

0.56

JMDS-201

8

20

4

1.2

0.75

0.6

0.5

0.4

JMDS-202

16

40

8

2.4

1.5

1.2

1

0.8

JMDS-203

24

60

12

3.6

2.25

1.8

1.5

1.2

JMDS-301

20

70

10

3

2.5

2

1.5

1.4

JMDS-302

40

140

20

6

5

4

3

2.8

JMDS-303

60

210

30

9

7.5

6

4.5

4.2

JMDS-304

80

280

40

12

10

8

6

5.6

JMDS-351

40

120

20

6

5

4

3

2.4

JMDS-352

80

240

40

12

10

8

6

4.8

JMDS-353

120

360

60

18

15

12

9

7.2

JMDS-354

160

480

80

24

20

16

13

9.6

JMDS-401

67.5

160

33.7

10

6.5

5

4

3.2

JMDS-402

135

320

67.5

20

13

10

8

6.4

JMDS-403

200

480

100

30

19.5

15

12

9.6

JMDS-404

266

640

133

40

26

20

16

12.8