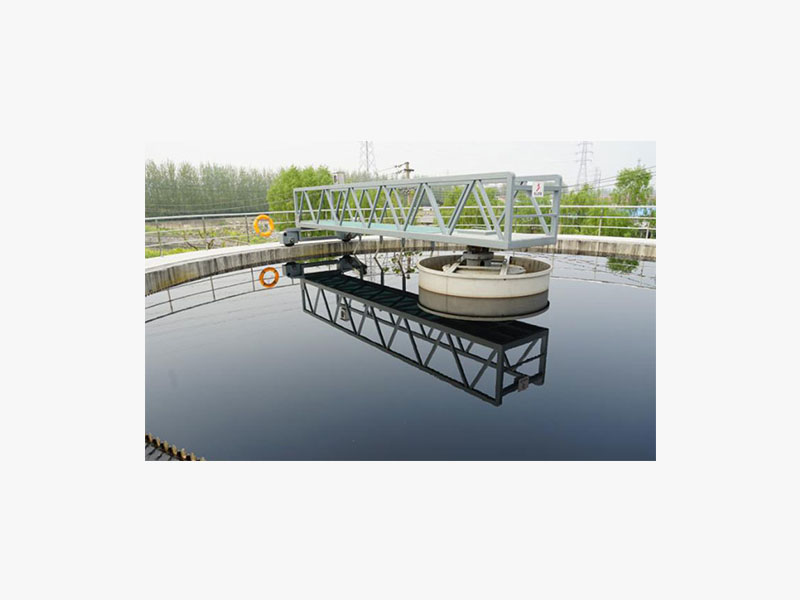 BZG/QZG-Half/Full bridge periphery drive sludge scraper
Sludge scraper is a customized design product based on the tank diamter and height.We have 3 types scrapers in total.The left picture is our BZG series -half bridge periphery drive sludge scraper.It has thoese main features: 1.Applied diameter from 16m-60 m 2.Water inlet from tank bottom;Water outlet from surrouding ; 3.Driving motor installed on the tank surrounding with wheel
Introduction
Sludge scraper is applied widly in circular sedimenhtation tank , mostly known as primary or secondary clarifier .Settled sludge are collected to the tank bottom middle with the assistance of sludge scraper, and then discharged by the pump to recycle or dewater .
Based on the differrence of driving method,JORSUN's sludge scrapers have thoese series:
Centre drive type sludge scraper (Optional :top skimmer ; sludge thickening mixing grid ) ;
Periphery (perimeter) drive type sludge scraper–half bridge;

Periphery (perimeter) drive type sludge scraper–full bridge .
The centre drive type is the most applied one,suitable for tank diameter from 2m to 16m .Periphery drive type is used in tank diameter from 18m to 60m .
So based on your requirements, JORSUN can offer customzied design.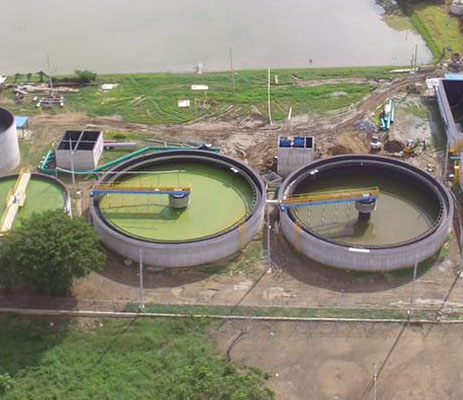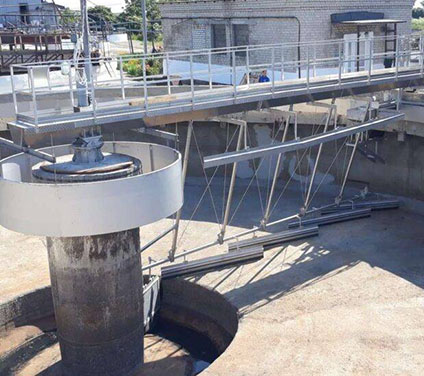 ●Working bridge with steel truss streucture,simple,elegant and light weight
●Simple installation&maintenance and low operation cost
●High energy-efficient drived with over torque
●Outdoor contro cabinet,safe and reliable
●Dimension and material are customized as clients' requirement
●Experience from thousands of applications in a variety of fields.
●Save installation time .JORSUN units are deliveryed as prefabricated units . Very easy for installation.
●Quick in response to provide excellent international services.Served clients are over 50 countries aross the world.
●Various constructed material. Carbon steel epoxy coating or FRP lining, stainless steel SUS304 or SUS316L,duplex steel 2205 or 2507.
Model

Diameter
(m)

Water depth
(m)

Tank depth
(m)

Peripheral linear velocity
(m/min)

Power
(kw)
QZG/BZG

Primary clarifier

Secondary clarifier

QZG18/BZG18

18

2.6~3.6

3~4

≤3

≤2

0.55*2/0.55

QZG20/BZG20

20

2.6~3.6

3~4

≤3

≤2

QZG25/BZG25

25

2.6~3.6

3~4

≤3

≤2

QZG30/BZG30

30

2.6~3.6

3~4

≤3

≤2

QZG35/BZG35

35

2.6~4.1

3~4.5

≤3

≤2

QZG40/BZG40

40

2.6~4.1

3~4.5

≤3

≤2

QZG45/BZG45

45

2.6~4.1

3~4.5

≤3

≤2

0.75*2/0.75

QZG50/BZG50

50

2.6~4.1

3~4.5

≤3

≤2

QZG55/BZG55

55

2.6~4.1

3~4.5

≤3

≤2

QZG60/BZG60

60

2.6~4.1

3~4.5

≤3

≤2
Remark :Diameter and height can be customized
Material option
Voltage option
FAQ
Material option
Wetted parts:
●Mild steel Q235B with epoxy coating
●Mild steel Q235B with FRP lining
●Stainless steel SUS304
●Stainless steel SUS316L
Working bridge:
●Mild steel main structure+FRP platform
●Stainless steel main structure+FRP platform
●Hot galvanized steel main structure+FRP platform
●Or concrete structure by clients
Voltage option
FAQ